^
production photography by Miles Davies www.milesdaviessite.com
COMMUNITY THEATRE SINCE 1935
Blue Remembered Hills
Show Meeting Monday 27th June, Porter Room at Southwick Community Centre, 7.30pm
Auditions Sunday 3rd July in Players workshop at Community Centre, midday sharp
Show Week October 12-15, 2016
Show pack from show.pack@southwickplayers.org.uk (please specify Blue Remembered Hills in email)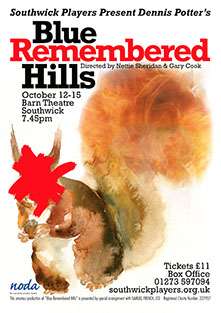 12-15 October 2016
"Blue Remembered Hills"
by Dennis Potter
directed by Nettie Sheridan and Gary Cook
Show pack from show.pack@southwickplayers.org.uk

Dennis Potter's examination of memory and childhood, set in the impoverished Forest of Dean during WW2.

Children play on an endless summer afternoon in 1943; in their wild and unrestrained relationships they both mirror the adult world and highlight the timeless casual cruelty - and kindness - of children. What could possibly go wrong?
The children are all played by adults in this piece, allowing the audience to see the harsh themes of the play with no sugar coating; it holds a mirror up to our own childhood memories of carefree fun, and also shows how the repercussions of action without thought can result in tragedy.

Show Meeting Monday 27th June
at Southwick Community Centre, 7.30pm
Auditions Sunday 3rd July
in Players workshop at Community Centre
midday sharp
Put it in your diary now and don't miss out on this exciting chance to release your inner child. We will be looking for 2 female and 5 male actors - actual ages are flexible but we do need mature candidates as you will be playing 7-10 year olds with a degree of physicality and lack of inhibition.
Our entry in the 2016 Brighton & Hove Arts Council Awards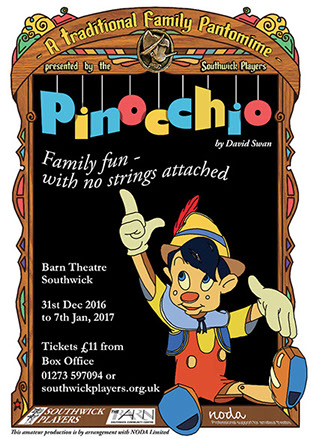 PANTOMIME PINOCCHIO
Show meeting Mon 11 July 7.30
Show pack from show.pack@southwickplayers.org.uk (please state Pinocchio)
Auditions Monday 18th July
(Children 6.30-7.30, Adults 7.30-10pm)
Show week
Dec 31, 2016 - Jan 7, 2017
Coming March 2017
Under Milk Wood
by Dylan Thomas
directed by Harry Atkinson
More details soon