^
production photography by Miles Davies www.milesdaviessite.com
COMMUNITY THEATRE SINCE 1935
PINOCCHIO
Traditional Family Panto - Tickets on sale now or call the box office on 01273 597094
Dec 31, 2016 - Jan 7, 2017
Under Milk Wood
by Dylan Thomas
April 5-8, 2017
SHOW PACK AVAILABLE NOW:
email show.pack@southwickplayers.org.uk
SHOW MEETING : 7.30-8.30pm, 10th Jan 2017
AUDITIONS : 7.30-9.30pm, 17th Jan 2017
Just For Laughs 3
just when you thought it was safe to go back to the Barn...
July 20-22, 2017 - details soon
Goodnight Mr. Tom
by David Wood
September 13-16, 2017 - details soon
The Man Who Came To Dinner by Moss Hart and George S. Kaufman
December 2017- details soon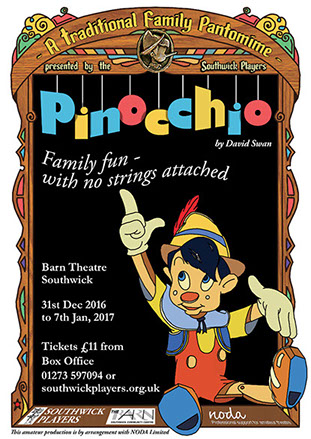 PANTOMIME PINOCCHIO
It's panto time again ... 'oh, yes it is' and what better story to tell this year than one of the most magical and moralistic of fairytales – Pinocchio. This panto really has it all: a cast of amazing and colourful characters, plenty of raucous audience participation, a gondolier chase and even a full-sized whale on stage!
All three of us have had the most amazing experiences within the world of pantomime, either as audience members, part of a production team or as performers.
- Claire Lewis, Tony Bright & Michael James
Tickets now on sale
Main Cast:
Jimmy Crankit: Tobias Clay - Grazia: Lou Yeo
Signor Verruca: H Reeves - Geppetto: Ron Common
Charlie: Bonny Hazelwood - Semolina: Jenny Burtenshaw
Confetti: Nettie Sheridan - Rambino: Sally Diver
Baby Dimples: Amy Bowyer - Mama Scrumpi: Tony Bright
Fungus: Ian Bishop - Maggot: Nikki Winter
Sapphire: Bob Woodman - Pinocchio: Sabina Silver
---plus large ensemble---
Dec 31, 2016 - Jan 7, 2017
April 5-8, 2017
Under Milk Wood
by Dylan Thomas
directed by Harry Atkinson
To begin at the beginning: It is spring, moonless night in the
small town, starless and bible-black...
Thomas' celebrated "Play for Voices" is a masterpiece - detailing the trivia, dreams, desires, imaginings, and just plain life of a small Welsh fishing village "of no particular significance" on one Spring Day. Gorgeously intertwining narratives and digressions into a seamless whole, we meet the residents of Llareggub, nestled in the bay under the "Mystic Tumulus" of Milk Wood
SHOW PACK AVAILABLE NOW:
email show.pack@southwickplayers.org.uk
SHOW MEETING : 7.30-8.30pm, 10th Jan 2017
AUDITIONS : 7.30-9.30pm, 17th Jan 2017
JUST FOR LAUGHS 3
July 20-22, 2017
OMG they are back again - Comedy sketches and songs from the (un)usual cast of nutters and misfits.
Guaranteed hilarity or your money back*
More fun than Pokemon Go!
Saucy Language!
Presented in Real3D!
*on presentation of £15 cash
Goodnight Mr. Tom
by David Wood
September 13-16, 2017 - details soon
The Man Who Came To Dinner by Moss Hart and George S. Kaufman
December 2017- details soon