^
production photography by Miles Davies www.milesdaviessite.com
COMMUNITY THEATRE SINCE 1935
Our Next Productions
The Rise & Fall of Little Voice
December 9-12, 2015
See How They Run
March 9-12, 2016
Show Meeting November 12th
One Act Plays
June 1-4, 2016
Southwick Players
80th Birthday
Celebration!
Saturday 17th Oct
Tickets now on sale!
Members, ex-members
& Partners welcome
Music, eats, chat and celebration...
9-12 December 2015
"The Rise and Fall of Little Voice" directed by Tony Bright
Description:
Little Voice spends her days alone in her bedroom. She escapes in the extraordinary voices she hears in her late father's record collection - and as her blowsy mother Mari shrieks and shouts her way around the house Little Voice sings with her heroines; matching them note for note, she is transformed by the power of performance.
When local talent agent Ray Say, Mari's latest boyfriend, overhears her he sees a way out; this is his chance for the high-life, his road to the showbiz big-time. All he has to do is find a way to take her with him. Persuaded by the tacky scout, pushed by an overbearing mother, a nervous Little Voice blasts out pitch-perfect renditions of her inspirational songs; but will she ever have the courage to find her own voice?
Cast:
Claire Lewis / Mari
Zoe Saunders / LV
Bob Woodman / Sadie
Laurence Bown / Billy
Richard Lindfield / Mr Boo
Kit Corcoran / Ray
Box Office 01273 597094 or click here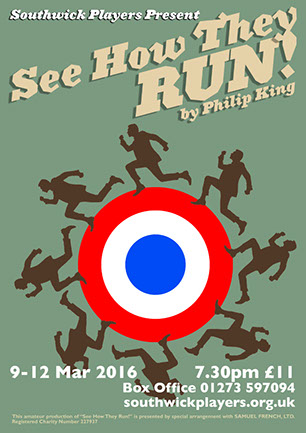 9-12 March 2016
"See How They Run!"
directed by Richard Lindfield
Description:
How do you fancy laughing your socks off for a couple of months and then getting other people to laugh their socks off for four nights? You do? Sounds like you're just the person to audition for our March production of See How They Run, a farce written by former Players' President, Philip King.
The plot involves vicars, more vicars, the odd bishop, a couple of luvvies, an escaped German POW, a battle-axe-on-a-bike and a salt-of-the-earth sergeant. The play was written during, and is set in, WW2 and is very, very silly (and rib-ticklingly funny). We are looking for actors with a sense of fun who can do it with a bit of style – think Noel Coward meets Dad's Army.
The show meeting is on Thursday Nov 12th with the auditions a week later on Thursday Nov 19th.
Rehearsals get underway early January (Sundays and Tuesdays with the odd Thursday nearer the time) with the show running from March 9-12th.
For a show-pack and audition pieces
email show.pack@southwickplayers.org.uk or call 07769 611172. If you just want to chew the fat with the director, email richard.lindfield@tiscali.co.uk or phone 07980 303605.
COMING SOON:
1-4 June 2016
One Act Play Evening


12-15 October 2016
"Blue Remembered Hills"
by Dennis Potter
Our entry in the 2016
Brighton & Hove
Arts Council Awards

The Southwick Players: Registered Charity No. 227937
Website sponsored by Harcourt Accountancy, design by www.id-Brighton.co.uk