^
COMMUNITY THEATRE SINCE 1935
production photography by Miles Davies www.milesdaviessite.com
Next Productions
Be My Baby
September 23-26
Tickets now on sale!
The Rise & Fall of Little Voice
December 9-12
Show Meeting 25 August,
Auditions 3 Sept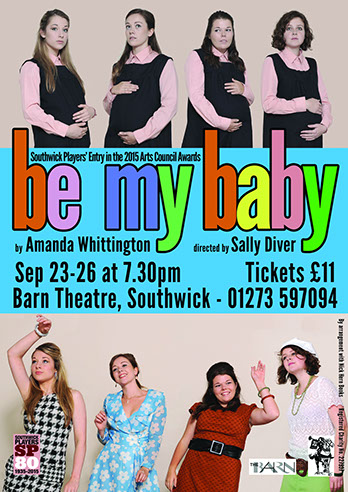 Be My Baby
By Amanda Whittington
directed by Sally Diver
23-26 September 2015
Description:
England, 1964. Mary is 17, single and seven months pregnant. Bundled off to St. Saviour's, a Church-run mother and baby home, her concerned mother has arranged for Mary's baby to be adopted as soon as it is born. The girls in the home find comfort in each other's friendship, but ultimately they must face their individual tragedies alone.
Set to the uplifting sounds of sixties girl-group pop, "Be My Baby" follows Mary and her fellow inmates as they cling to fantasies of romance and marriage but instead are drawn inexorably towards outraged, powerless adulthood.
Cast:
The Girls:
Mary: Nancy Wesby
Queenie: Kerry Williams
Dolores: Phoebe Cook
Norma: Alice Wesby
The Adults:
Matron: Debbie Creissen
Mrs. Adams: Sharon Churchill
Our entry in the 2015
Arts Council Awards
Tickets available now!
Box Office 01273 597094
or
click here
9-12 December 2015 - "The Rise and Fall of Little Voice" directed by Tony Bright. Show pack now available from show.pack@southwickplayers.org.uk.
- show meeting 25th August, Auditions 3rd Sept,
rehearsals start week of 28 Sept
COMING SOON:
9-12 March 2016 "See How They Run"
1-4 June 2016 One Act Play Evening
12-15 October 2016 "Blue Remembered Hills"
About

| Based at the beautiful Barn Theatre
The Southwick Players: Registered Charity No. 227937
Produce a varied programme of 5 plays each year, with a varied repertoire ranging from contemporary productions, classic plays, musicals, pantomimes, comedy evenings and more
Established in 1935, the Southwick Players have a rich and award-winning history in amateur theatre in the area. The range of productions we have put on over the years is second to none, and we are looking to continue and enlarge on our enviable reputation for quality. You can peruse our past productions here
Enthusiastic new members from the Southwick, Hove, Worthing and Brighton area.
And not just actors! We are always looking to expand out backstage team, and offer opportunities at all levels for training and mentoring in lighting, stage management, direction, sound and everything else associated with putting on a show...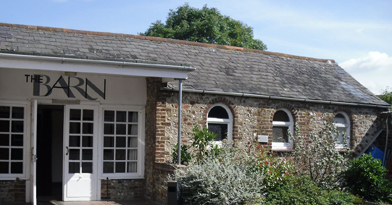 'Emergency Exit' was the Players' first production in March 1936, written by Gordon Brice-White. Gordon was a member of the Sussex Playwrights Club, with which the Players had strong links at the time. 'Emergency Exit' was performed over 2 nights at Southwick & Shoreham Senior Girls School. Among the cast was Gordon's sister Venetia, who later married another cast member, George Baker, with the couple continuing life long membership of the Players. Also in the cast incidentally was George's brother Stanley, who after the War was the main driving force behind the setting up of Southwick Community Association. In 1945, Southwick was one of the very first Community Centres to be set up in the country, and Stanley Baker MBE remained at the helm as Hon. Sec until his retirement in the 1990's.
On Friday, 25th July 1935 a meeting, under the chairmanship of Charles Walker, was held at Southwick Town Hall. As a result of this meeting Southwick Amateur Players came into being. At the meeting it was asked if the Players would have their own theatre, and Mr Walker replied that "I hope that Southwick will be able to provide a 'barn' as a permanent home".
The following Thursday a meeting was held to discuss preliminaries at the Barn, Southwick Green. This is the flint building, now converted to houses, immediately north of King Charles cottage on the west side of the Green. That is where the Barn Theatre was earmarked to be, until the intervention of the War. The Players' first officers were elected at another meeting a week later.
Following 'Emergency Exit', regular Southwick Players productions took place in a number of halls in the area. In the autumn of 1936 4 One Act Plays were presented. These were 'The Colour Question', 'Tennis Party'; 'Rizzio's Boots' and 'The Gardener'. The latter was entered into the British Drama League Festival and received the award for best play written & performed.
In October 1937 the company staged 'Young Soldiers', again written by Gordon Brice-White. However, owing to the nature and tone of the piece Mr Kenneth Loader, the President, resigned in objection to the production. 'Young Soldiers' though, was well received by audiences and gained 2nd place in the Sussex Rural Drama Festival.
There followed another series of One Acts in 1938 but then came the War, and the Players, like the majority of drama companies, closed down. This remained so until the company was reformed on 1st Feb 1946.
Contact Us | There are many ways to get in touch

The Southwick Players: Registered Charity No. 227937
Website sponsored by Harcourt Accountancy, design by www.id-Brighton.co.uk